Back to listing
Arrows Resort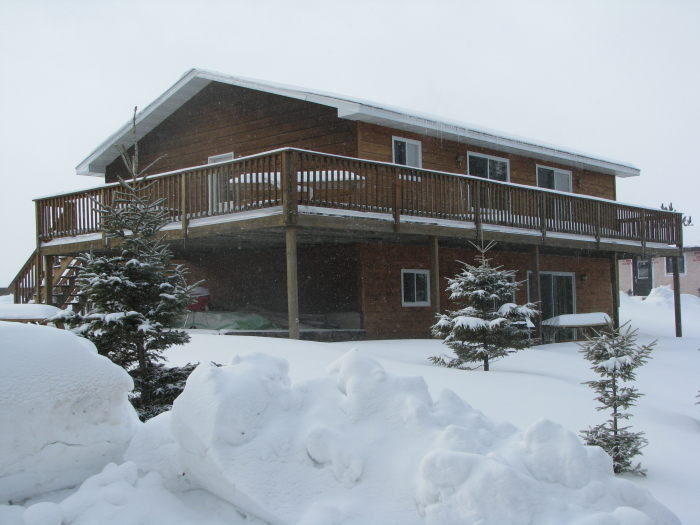 Visit Website
Address
E20081 Thousand Island Lk. Rd
Watersmeet, MI 49969
Expand All
Description
 We are located on Thousand Island Lake on the awesome Cisco Chain in Watersmeet
In Michigan's fantastic
U. P. just four miles north of Wisconsin!
The peace and tranquility of this beautiful area will leave you feeling relaxed and happy. We invite you to enjoy our beautiful woods and waters, incredible wildlife and waterfalls, the soaring eagles and cries of the incredible loons, the clearest starry nights, the most sparkly pristine snow-covered virgin forests, and the solitude of this truly blessed area. Come and enjoy it with your family and friends and take home some wonderful memories!
The Arrows are three private family-owned homes located on Thousand Island Lake on the Cisco Chain of 15 Lakes in Michigan's fantastic Upper Peninsula. Our homes are just a few miles over the Wisconsin border. We have two deluxe executive homes that will sleep up to 15 people each. They each have four individual sleeping areas or more, two baths with double whirlpool tubs as well as many wonderful amenities. One of our homes is located at the former Indianhead Resort.  It's a three-bedroom, one bath home with a screened-in porch on the side.  It has some of the best sunsets you'll ever see.  It's a great time to make reservations now.  Just let us know what time you're looking for and we will be happy to help you with your vacation plans!
We are 12 miles southwest of Watersmeet and 15 miles northwest of Land O' Lakes, Wisconsin. We're 34 miles from Eagle River, Wisconsin, 300 miles north of Milwaukee, and 390 miles north of Chicago. It's about a 5 ½ hour drive to either the Mackinaw Bridge or Minneapolis, Minnesota.
We invite you to visit our Facebook page.  Please "Like" us at The Arrows Resort!  I have been posting on our Facebook page, so check it out, too, for more information on our homes and area!
THE CISCO CHAIN OF LAKES
 is comprised of 15 navigable lakes with 270 miles of shoreline.  Thousand Island Lake is the largest of these scenic lakes and has numerous islands and bays.  A day boating on the chain is a memorable one… be sure to include the smaller uninhabited lakes, too.
WALLEYES, MUSKIES
 (the state record musky was caught in 1980 on our lake!) large and smallmouth bass, northerns, perch, crappies, and other panfish are plentiful.  Many trophy fish are taken each year.  Thousand Island also contains lake trout, splake, and cisco.  Explore any of the 302 lakes and 241 miles of trout streams located in Watersmeet alone.
Photos
Amenities & Services
Cable TV
Limited Pets
Whirlpool
We would like to lookup your present location so we can provide accurate directions.
Your browser may ask for your permission to determine your location (possibly at the top of this page).
If you agree, we will use your current location as the starting point for directions. If you don't agree, you may enter a starting location when the map is displayed.