Snowmobiling Big Snow Country Style!

RATED #1 SNOWMOBILE DESTINATION BY READERS OF AMERICAN SNOWMOBILER!
Each Western U.P. snowmobiling adventure is unique and exciting, as there are over 2000 miles of groomed trails, unplowed logging roads, secluded National Forest trails throughout our area. Explore a Western U.P. winter and share the experience of a Western U.P. snowmobiling vacation with your family and friends. It's what snowmobiling is all about. Because when natural beauty, brilliant exhilaration, and good times come together, the sensation is Pure Michigan. Big Snow Country is a Snowmobiler's Paradise. This heavy snowfall gives you, the rider, the very best conditions, and trails.
Western Upper Michigan Snowmobile Trail Reports – Lake Gogebic Trail Report, Watersmeet Trail Report, Ironwood, Bessemer, Wakefield Trail Reports
Western U P Snowmobile Trail Report 1/20/2022
We received about 4″ of new snow yesterday.  Temps will be in the teens on Friday and Saturday with a chance of snow on Saturday.  Sunday will only be in the single digits for temps.
Groomers are out so please use caution while riding and remember the groomers have the right of way.
Please stay on marked trails riding on unmarked trails can result in the clubs losing easement for that trail.
Gogebic Range Trail Authority Groomer Report  January 20, 2022
All GRTA trails are being groomed tonight.  11S was groomed last night into this morning and is being missed tonight, good powder ride for tomorrow though! Trails have improved dramatically with a day and a half of steady snow. We have a few more days ahead and cold temps along with three groomers running every night.
Gogebic Area Groomers Report  January 10, 2022
Gogebic Area Trails are all in fair to good condition with the exception of 8E which is very thin – especially after Ewen.   Have a groomer down and groomers are working round the clock to keep up.    Thanks very much from the sister clubs who are helping out right now!    Cold temps and daily snow are in our forecast this week!
U.P. Thunder Riders Trail Report  January 20, 2022
Groomers are running daily and reporting all trials are in good condition.  Ride Safe and stay on the RIGHT SIDE of the trail!
Watersmeet Michigan Area
Snowmobile Trail Report
Lake Gogebic Area
Snowmobile Trail Report 
Western U.P. Snowmobile Map
300 E Cloverland Dr
Ironwood, MI 49938
500 Indianhead Rd.
Wakefield, MI 49968
E20060 Thousand Island Lake Rd
Watersmeet, MI 49969
35714 W. M-28
Bergland, MI 49910
456 North Street
Bergland, MI 49910
List of Members
Members found: 5

showing 1 through 5 of 5
300 E Cloverland Dr
Ironwood, MI 49938
Phone: (906) 932-1202 (800) 932-1202
Cloverland Motorsports
AREAS LARGEST AUTHORIZED POLARIS DEALER
Sales, Service, Parts and Rentals We carry the full Polar ...
More
Details
500 Indianhead Rd.
Wakefield, MI 49968
Phone: (800) 346-3426 (800) 346-3426
INDIANHEAD MOUNTAIN RESORT AND BLACKJACK MOUNTAIN HAVE MERGED. SKI AND BOARD BOTH RESORTS ON ONE TICKET! ...
More
Details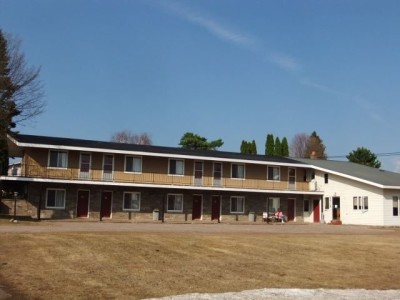 456 North Street
Bergland, MI 49910
Phone: (906) 575-3262
We are a small motel located just 2 short blocks from Lake Gogebic.
More
Details
35714 W. M-28
Bergland, MI 49910
Phone: (906) 575-3397
Lake Gogebic Area Ski Doo and Can Am Dealer
More
Details
E20060 Thousand Island Lake Rd
Watersmeet, MI 49969
Phone: (906) 670-2088
Cozy lake-front cabins on the Cisco Chain of Lakes
More
Details