Snowmobiling Big Snow Country Style!

RATED #1 SNOWMOBILE DESTINATION BY READERS OF AMERICAN SNOWMOBILER!
Here, snowmobiling isn't just a pastime – it's a lifestyle, a winter symphony composed on a canvas of gleaming white trails.
The Western Upper Peninsula presents a thrilling, white wonderland adventure for snowmobiling enthusiasts. With over 2000 miles of groomed trails, this region is a hidden gem offering unparalleled excitement and breathtaking winter beauty. Snowmobilers are treated to pristine forests, panoramic views of Lake Superior, and the chance to observe wildlife in their natural habitat.
The trails are well-marked and maintained by dedicated local snowmobile clubs, ensuring safe and exciting rides. The trail system includes a mixture of public and private lands, and with a trail accessible snowmobile permit, riders can explore this winter paradise with ease. .
Whether you're seeking adrenaline-filled adventure or a peaceful exploration of Michigan's winter landscapes, snowmobiling in the Western Upper Peninsula offers an unforgettable experience.
Our area offers cozy lodgings, hearty meals, and excellent equipment rentals. We've got your back when it comes to comfort and convenience because a day on the trails should end with a warm meal and a toast to the winter gods.
In Western Upper Peninsula the snow is always whiter, the trails are always smoother, and the snowmobiling? Well, it's simply the best.
Western Upper Michigan Snowmobile Trail Reports – Lake Gogebic Trail Report, Watersmeet Trail Report, Ironwood, Bessemer, Wakefield Trail Reports
Western U P Snowmobile Trail Report— 03/20/2023
Temps will still be in the 20 and 30's in the beginning of this week, for the end of the week the highs will be 40 and the lows in the 20's.  Snow is in the forecast for Tuesday and Wednesday.  Come up and enjoy all the snow that we got dumped on this past weekend.  24* inches……
Gogebic Range Trail Authority – ORV & Snowmobile Club
Groomers were out last night on trail 2 from Hurley to Bessemer and to Marenisco.  Trail 8 was done along with 11 through Morgan Mine.
Gogebic Area Grooming
3/19/2023
We've received anywhere from 28″ to 30″+ of new snow.. Yikes it's deep. Our entire system was covered last night into today but nothing is perfect by any means. The trails will have to be hit several times before we get that good packed trail. 102 had the drag dropped at the bottom and was reset with Bully only.. Enjoy everyone, our time is limited..
U.P. Thunder Riders Snowmobile Club
3/19/2023
Groomers were out yesterday. 6-10″of new snow and still snowing now!! Trails are great is the word from club secretary Lela who was out riding and came across Gary in the John Deere west of Watersmeet on Trail 2. Ride Safe, Ride Right !
Watersmeet Michigan Area
Snowmobile Trail Report
Lake Gogebic Area
Snowmobile Trail Report 
Western U.P. Snowmobile Map
456 North Street
Bergland, MI 49910
300 E Cloverland Dr
Ironwood, MI 49938
35714 W. M-28
Bergland, MI 49910
List of Members
Members found: 3

showing 1 through 3 of 3
300 E Cloverland Dr
Ironwood, MI 49938
Phone: (906) 932-1202 (800) 932-1202
Cloverland Motorsports
AREAS LARGEST AUTHORIZED POLARIS DEALER
Sales, Service, Parts and Rentals We carry the full Polar ...
More
Details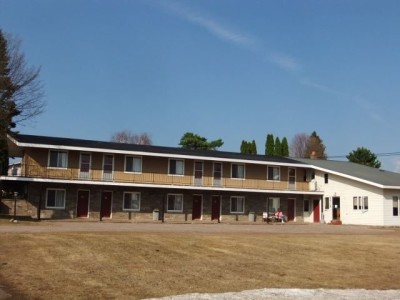 456 North Street
Bergland, MI 49910
Phone: (906) 575-3262
We are a small motel located just 2 short blocks from Lake Gogebic.
More
Details
35714 W. M-28
Bergland, MI 49910
Phone: (906) 575-3397
Lake Gogebic Area Ski Doo and Can Am Dealer
More
Details